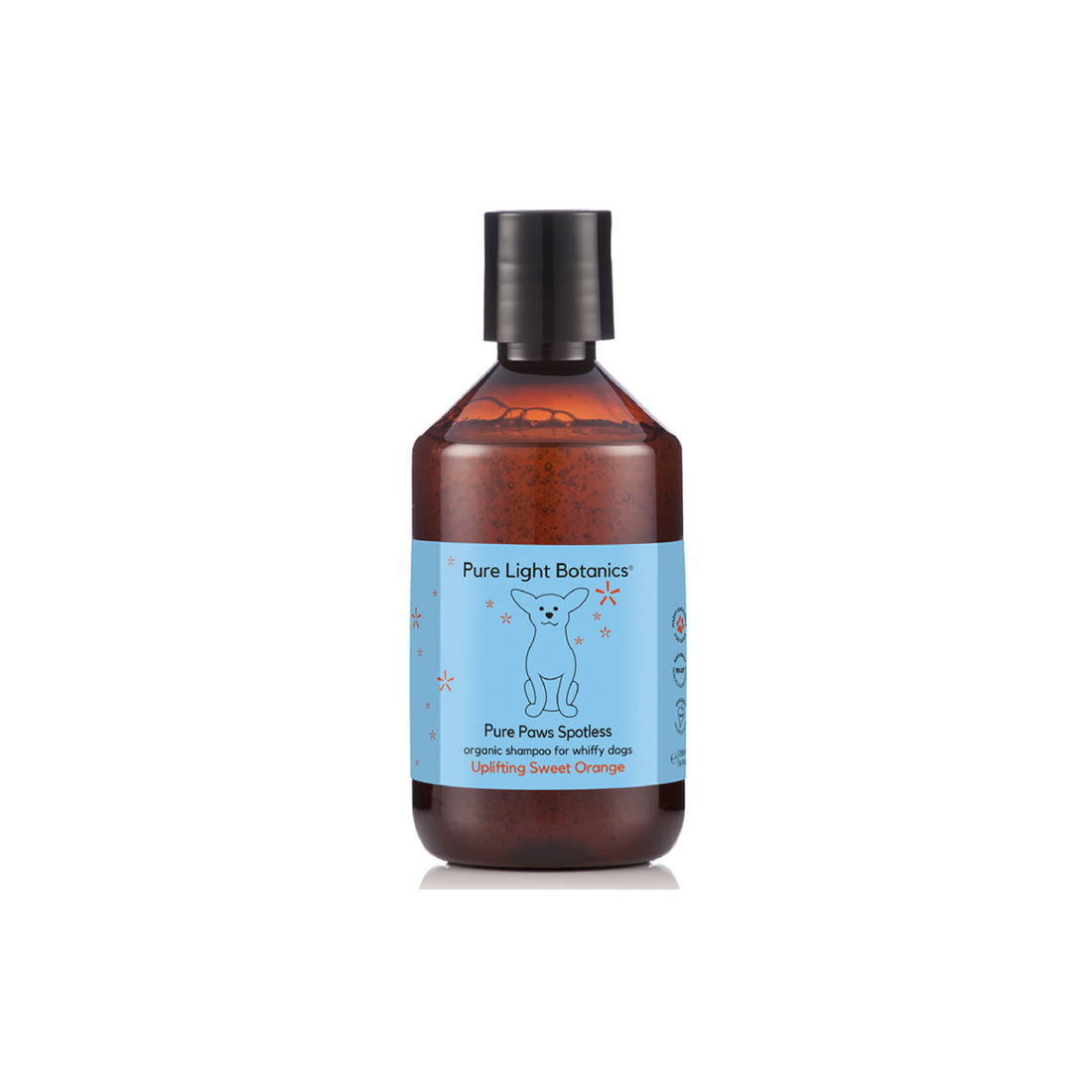 'Pure Paws' Spotless Orange Shampoo for Whiffy Dogs 250ml by Pure Light Botanics
"Pure Paws by Pure Light Botanics has been very effective in keeping our bullies clean, moisturised and fresh! The ingredients are organic and specially blended to perfection for your bully's well-being. Great for prevention of sensitive skin." - Hello Human 
Specially formulated for deep cleansing and deodorising
Uplifting Sweet Orange essential oil cleanses and calms
Organic Aloe Vera and Organic Oat extract softens fur and nourishes delicate skin.
Formulated for the correct pH for an animal's coat.
Formulated for the correct pH for your bully's coat.
Follow with Pure Light Botanics Original Dog Conditioner.
Vegan friendly, cruelty free. Made with 76.25% organic and 99.05% naturally derived ingredients.  
Free from SLS/SLES, alcohol (ethyl alcohol, ethanol), parabens, lanolin, methylisothiazolinone, methylchloroisothiazolinone, palm oil, silicones, formaldehyde, phthalates, petrochemicals, artificial perfumes and colourants.
*Viewing of puppies is via appointment only*
Please contact +65 9662 2666
See our many 5 ⭐⭐⭐⭐⭐ reviews from happy Hello Human owners here: REVIEWS
Joyful Healthy Puppies
At Hello Human, we have some of the best-looking, healthiest and happiest puppies!
We make sure that our puppies are treated with love and care from the time they are born until the time they go home to their furever families 🐶💕🏡!