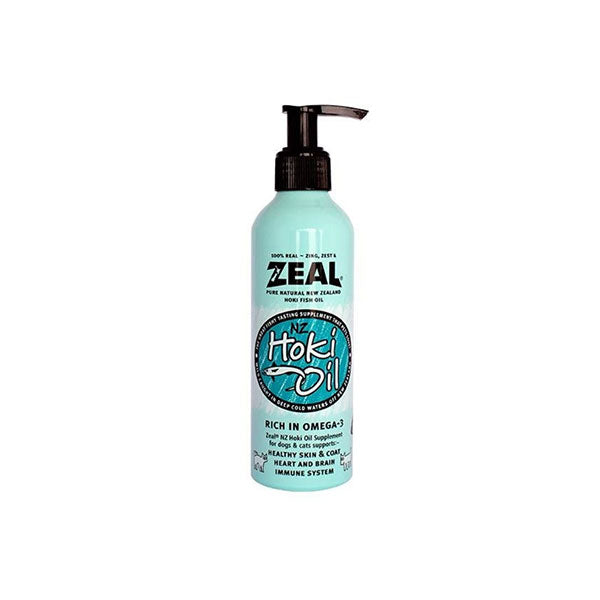 Zeal Hoki Fish Oil - Health Supplements for Dogs & Cats
"Fish Oil is a great natural supplement to give to your bullies as there are countless health benefits. Zeal's Hoki Fish Oil comes from high-grade wild caught Hoki Fish and the results show. Not only did we immediately see improvement in the skin & coat of our bullies, their vitality also improved. Just pump the oil over kibbles and watch your dog gobble it all down. Bonus: the fishy taste is actually quite pleasant and not overwhelming!" - Hello Human
Made in New Zealand, from wild caught Hoki Fish 

Rich in Omega-3 essential fatty acids

Pure high-quality sourced fish oil with high value of DHA per serving.
Benefits:
Improves Skin & Coat Health - reduces dryness, itchiness and shedding, promotes healthy glossy coat
Promotes Brain Health - cognitive functions and trainability 
Improves Immunity - reduces inflammation and promotes healthy cell growth
Supports Heart Health - improves blood flow
Enhances Eye Health - High in DHA and EPA for visual development and retinal function.
Improves Joint Strength
Supports a Healthy Urinary Tract
Suitable for all breeds at all life stages. 220ml size.
*Viewing of puppies is via appointment only*
Please contact +65 9662 2666
See our many 5 ⭐⭐⭐⭐⭐ reviews from happy Hello Human owners here: REVIEWS
Joyful Healthy Puppies
At Hello Human, we have some of the best-looking, healthiest and happiest puppies!
We make sure that our puppies are treated with love and care from the time they are born until the time they go home to their furever families 🐶💕🏡!