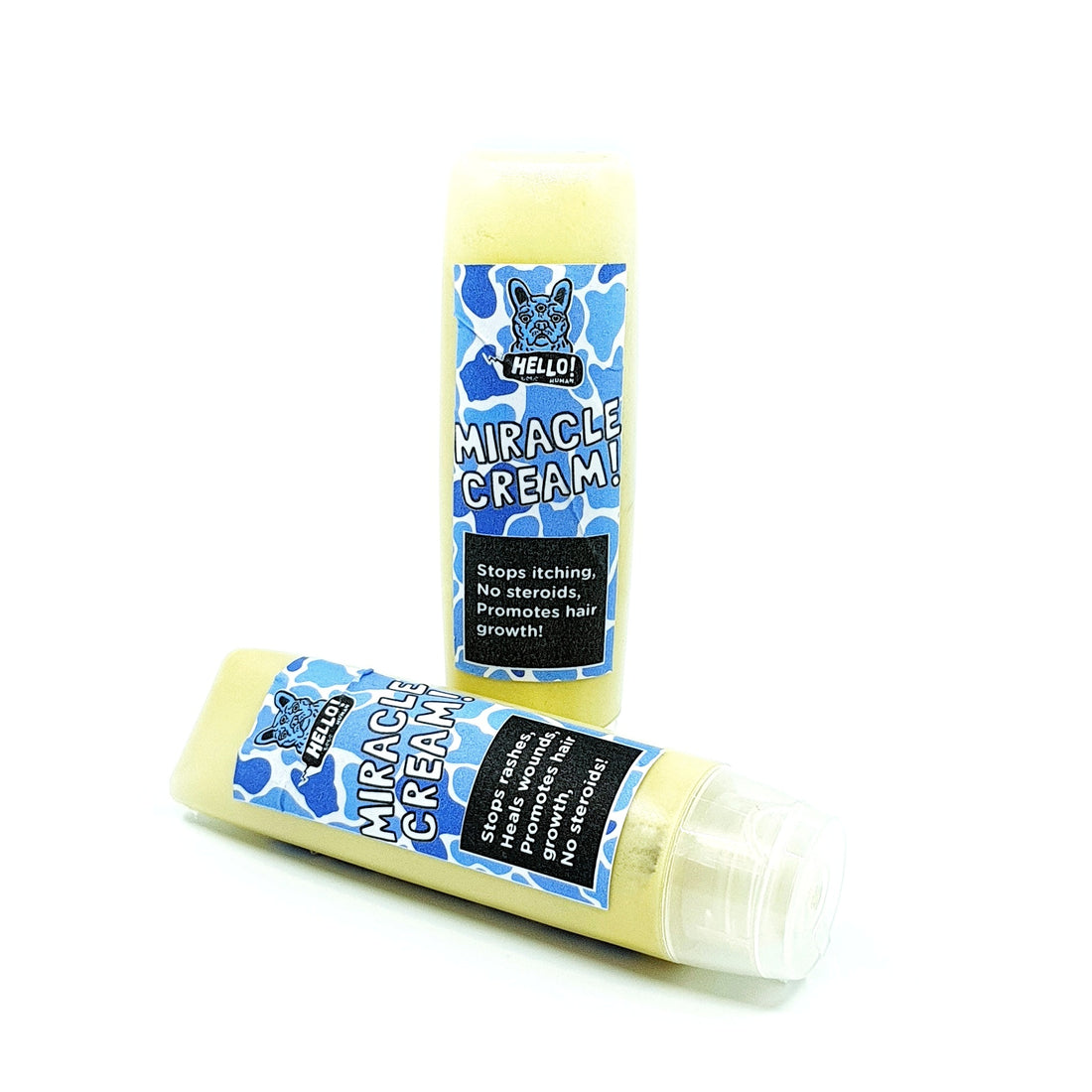 HELLO HUMAN MIRACLE CREAM
"This is a trusted family recipe that's been used for decades by our breeders on their dogs. We're excited to share this secret with you as the Cream truly works like a Miracle. We've applied this on our dogs to treat hot spots, cuts, scratches and rashes. And the wounds healed overnight. This cream also promotes fur re-growth on healed wounds. Just apply a thin layer and wait for the cream to work its magic. We hope this helps your dogs as much as they have helped ours." - Hello Human
Properties:
All-natural gentle ointment proven over decades to provide fast effective treatment for many fur and skin issues on animals.
Does not contain steroids 
Promotes hair re-growth.
Instructions: 
Shake well before use.
Ensure affected area is clean and dry.
Apply a small amount and spread thinly across the affected area. The smell is strong but the product is gentle. Recommended to wear gloves during application.
Wash your hands thoroughly after application to avoid accidental ingestion or contamination.
Make sure your pet doesn't try to lick affected area until the cream has dried. It's bitter so they won't try, but it's good to keep a lookout anyway.
Do not wash off. Re-apply every other day if necessary. 
Suitable for pets above 3 months old.
WARNING: Do not ingest. Not for human use. This product provides topical relief and does not qualify as medication. When in doubt, always consult a vet.
Ingredients: Sulphur, Mineral Oil, Pine Oil
Content: 30ml
*Viewing of puppies is via appointment only*
Please contact +65 9662 2666
See our many 5 ⭐⭐⭐⭐⭐ reviews from happy Hello Human owners here: REVIEWS
Joyful Healthy Puppies
At Hello Human, we have some of the best-looking, healthiest and happiest puppies!
We make sure that our puppies are treated with love and care from the time they are born until the time they go home to their furever families 🐶💕🏡!